Lovebird Detour -- My Week in Clay 8/11/2017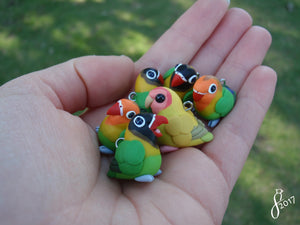 This week I had several lovebird commissions and took the opportunity to make a small flock of masked lovebird charms. These masked lovebirds, along with a few new Fischer's lovebirds, will be available in my next update. Tomorrow I plan to return to my cockatoo project with some sulfur crested cockatoos.
I am also hosting a giveaway this month to celebrate over 1K followers on Instagram. The giveaway is hosted via my Instagram and DeviantArt profile. I will be drawing a winner on Friday August 25. I wish the best of luck to every entrant.
Leave a comment