More Green Macaws -- My Week in Clay 6/23/17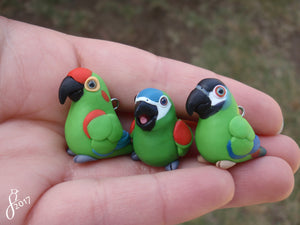 Four new little green macaws have joined their brothers and sisters. This time I have two red-fronted macaws and two golden-collared macaws. I have also started on the blue macaw series with some blue and gold macaws.
In between macaws and commissions I am color mixing for my special Fall project. This new series is set to release in October with plenty of time for Halloween. When the colors are complete, I will give a little sneak peak.
Leave a comment